Growing Tomatoes from seed is easy. Tomatoes are long-growing, heat-seeking, sun lovers! Tomatoes are available in a wide variety of sizes, from tiny grape-size types to giant beefstakes. These warm-season plants do not tolerate frost.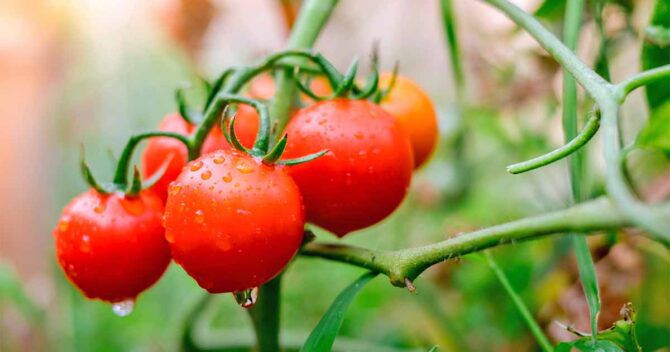 Tomato cultivars can be classified according to their growth habit:
Determinate tomatoes are plants that grow to pre-determined height. They are good choices for canning and sauce-making.
Indeterminate tomatoes increase in height throughout the growing season because the terminal of the stem continues to produce foliar growth rather than set flowers. The fruits on these plants are produced continually through the season along the side shoots of the plant. Indeterminate tomatoes are the choice if you want to spread out the harvest over a longer period of time.
---
How to grow Tomatoes from seed
Tomatoes require a long growing season, and are best started indoors 6 weeks before the anticipated transplanting date (after the final frost of the spring).
For best results, sow seeds ½" deep in a well-drained, soilless starting mix.
Seeds require warm soil. The warmer the soil, the faster the germination.
Keep soil moist, but not soggy while awaiting germination. Moderate watering slightly once seedlings break through the soil.
Wait at least a week or two after the last frost before transplanting the seedlings.
Tomatoes do better if the seedlings are planted deeper than they were grown in containers. Set them in the ground so that the soil level is just below the lowest leaves. Roots will form along the buried stem, establishing a stronger root system
---
Maintaining Tomato plants
Tomato plants prefer well-drained, fertile soil, high in organic matter. Fertile clays and loams produce the highest yields, but lighter soils that drain and warm quickly can produce earlier harvests.
Mulch plants after the soil has warmed up to maintain soil moisture and suppress weeds.
Tomato is a heavy feeder and should be fertilized with an organic blend rich in phosphorus and potassium, and containing moderate nitrogen.
Tomatoes need at least 8 hours of direct sun daily, and will develop faster with increased exposure.
Prune tomatoes to one or two vigorous stems by snapping off "suckers" (stems growing from where leaf stems meet the main stem) when they are 2 to 4 inches long.
---
Harvesting Tomatoes

The days to harvest depends on the cultivar, but the days to maturity ranges from 60 days to more than 80 days.
Medical Disclaimer
Information is for educational and informational purposes only and may not be construed as medical advice. The information is not intended to replace medical advice or treatment offered by healthcare professionals.