Tarragon Medicinal Uses is well documented by the Greeks, the Romans, the English, Arabs and Asians.  Tarragon (Artemisia dracunculus) is a perennial herb with long, thin leaves, is native to Central Asia (mainly Siberia) and can reach  a height of 40 to 150 cm.
Tarragon Medicinal Uses Overview

Tarragon is excellent to stimulate your appetite and digestion, thanks to vitamin C.
It also appears very effective in case of bloating and stomach pain.
It is recommended in cases of light constipation and is also a good diuretic.
In case of intestinal parasites, tarragon acts as an excellent dewormer and filters out parasites.
For women experiencing amenorrhea or delay in menstruation, tarragon helps bring the menses back.
In case of muscle spasms, tarragon has very good antispasmodic properties since it acts on the nervous system. It can also soothe painful joints and cramps.
For sleeping disorders, tarragon helps with insomnia and helps reduce feelings of depression, tension and anxiety.
Tarragon can also decrease pain due to sore throat or dental pain. For that, simply chew tarragon leaves.
Tarragon contains antioxidants that protect the body from free radicals, and hinder appearance of cardiovascular diseases, cancers and cell ageing.
External use of tarragon essential oil demonstrates anti-inflammatory and anti-allergy properties.
Tarragon essential oil can clear hives and dermatitis, simply by massaging it over the impacted areas.
Preventive treatment against respiratory allergies, like hay fever, as tarragon lowers the body's histamine production, a molecule produced by the body that triggers symptoms related to allergy.
Russian tarragon has been shown to be incredibly beneficial at supporting and balancing out healthy glucose and insulin levels in the body which is a great benefit for diabetes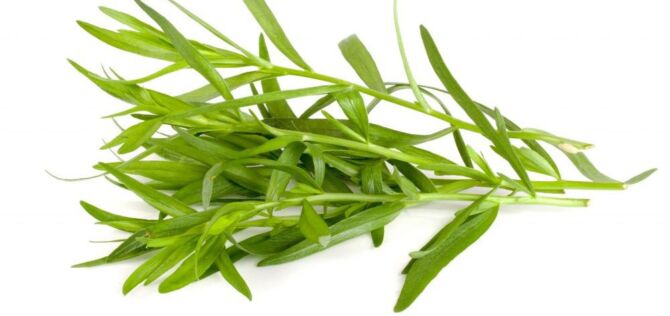 Tarragon Herbal Preparations
Parts Used: The leaves of the plant is used – fresh or dried.
---
Tarragon Herbal Recipes
Tarragon leaf infusion
Let a few leaves steep in boiling water for 10 to 15 minutes. Drink all day long to purify the body and take advantage of tarragon's health benefits.
Medical Disclaimer
Information is for educational and informational purposes only and may not be construed as medical advice. The information is not intended to replace medical advice or treatment offered by healthcare professionals.